"That's literally what it is: a sandbox game in which you run around destroying people's houses in order to kill all the spiders with various, extremely overblown methods. And there's something kind of glorious about that…"
Professor Kozlowski gratuitously slaughters all of the spiders and muses on the advantages and disadvantages of total freedom in this physics-based sandbox game about arachnid genocide. NOTE – The sound quality for the game recording turned out to be crap (we're working on the problem). Feel free to skip to the 1:03:00 mark; the recap doesn't suffer from the same problem.
Intriguingly, along with helping me steal an image for this post, google thought I might want to know that there's a book with the same title by Marianne Bellotti. It seems to be precisely not about lopping off and burning problems, in this case computer system kludges:
"Marianne Bellotti's new book Kill It With Fire is incredibly well timed. For those alarmed by the provocative title, rest assured the only thing Bellotti advocates torching is the notion of torching itself. And while the book is written for technical leadership, her wisdom is something many nontechnical government leaders need to hear right now, lest they fall prey to the gaggle of advisers saying things like 'we just need to get them off the mainframe.' . . . Bellotti's book could not have come at a better time, and while there are other factors in this equation, she outlines some of the most important."

—Jennifer Pahlka, OneZero
In other readings overheard this week:
Surreal. The RetroAM fellas and the vlogger Resonant Arc of the lustrous locks got together recently to discuss Xenogears. I still haven't listened all the way through, but I'm hoping that they shout out that conversation we did one time. This marks the second time I've been just a degree removed from the big man with the big mane, since Resonant Arc has also collaborated with Pat Holleman, my interlocutor on another episode. If nothing else, it should bring more people to Chris and Eric of Retrograde Amnesia, who richly deserve the attention. (And if they go deep enough into their patreon bonuses, maybe they'll find their way here.)
And then more serendipity: there's the dapper classicist Moses Hadas, who references Huizinga's Homo Ludens out of nowhere.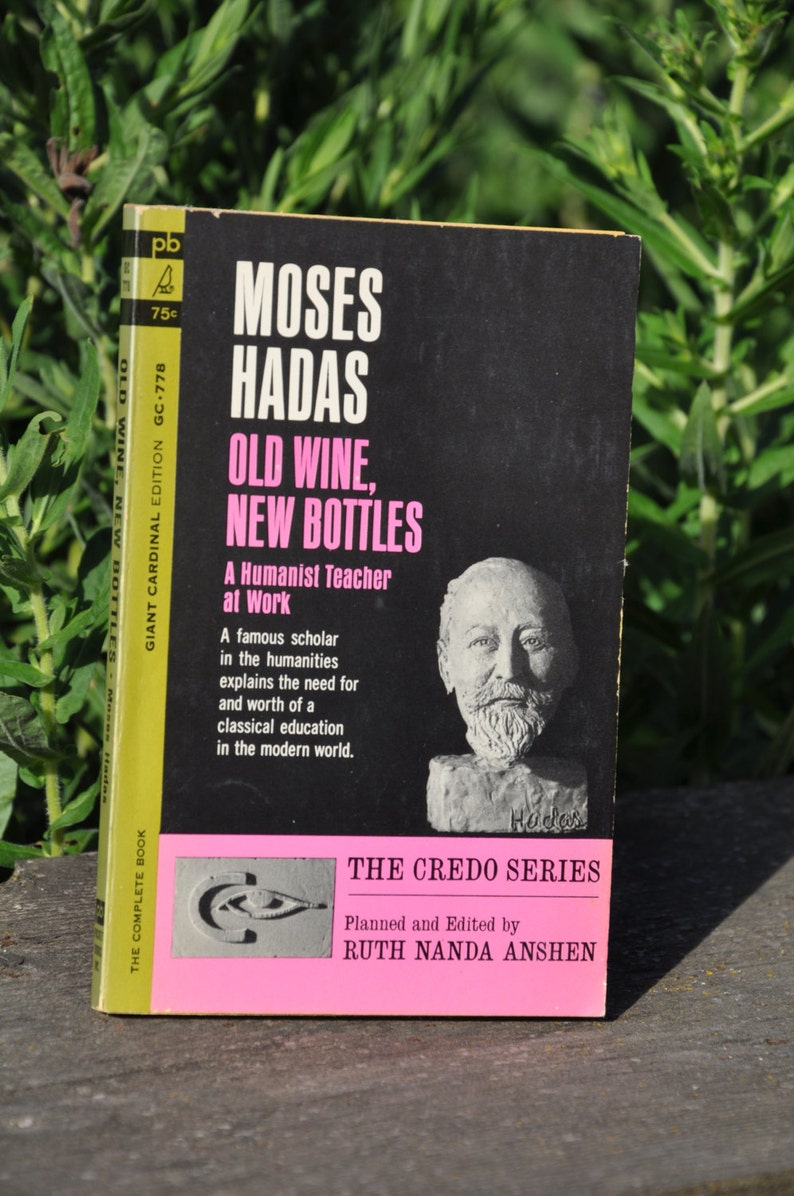 In his retrospective Old Wine, New Bottles, a book I stumbled upon at the used book store along with a very dry series of lectures given by John Dewey in Japan, Hadas puts this at the start of a chapter on "Bookish Evangelism":
The distinguished Dutch medievalist and philosopher, Johan Huizinga, calls one of his most delightful and instructive books Homo Ludens. The point of the title is that the significant characteristic of the human species is not intellectuality, as the universally accepted Homo Sapiens [sic] implies, but playfulness [amen], and Huizinga's subtitle is "A Study of the play element in culture."[…]Something of the notion Huizinga elaborates had been adumbrated, at least by implication, in the opening sentence of Aristotle's Metaphysics, which declares that "man by nature desires to know."
The connection to Aristotle shades back into "intellectuality," but the point seems to be that thinking can be fun. I'll say more about HL soon, at long last, and hope to be no less redolent of erudition or self-indulgence in my Bookish Evangelism.
Finally, with the drama of the Olympic Games in full swing, here's Robert O'Connell, writing in The Atlantic:
Biles's words could reshape sports beyond her own. If the support for Osaka revealed an appetite for the end of sport as suffering, Biles has now proposed an alternative doctrine. "It's okay sometimes to even sit out the big competitions, to focus on yourself," she said. "It shows how strong of a competitor and person you really are, rather than just battle through it." The predictable subset of the pundit class framing Biles's decision as cowardly—proof that the modern athlete is coddled, or that the supply of American grit is running low—could not have chosen a less fitting mark. Biles has won the U.S. national championships jumping and landing on broken toes; she has won a world championship with a kidney stone. There may be nobody alive with a firmer grasp of what can and can't be transcended.

For athletes, a willingness to sit one out, if they need to, may make for more humane conditions—more thoughtful protocols for post-match media interviews, more resources for competitors traveling around the world without friends or family. For all of us watching, there's another subtle but meaningful effect. We draw no small portion of our ideas about striving and accomplishment from sports. Biles, in leaving her competition yesterday, did what we want great athletes to do: offer a hint about the connection between internal workings and external brilliance. It wasn't joyful, so she couldn't fly through the air in the way we're used to seeing. That tells us something crucial, and beautiful, about the times when she could.