In EarthBound, Shigesato Itoi captures for all time what it feels like to be young and save the world.
There are several versions of this course on the MOTHER / EarthBound games, some completed, some in progress–just as there are many versions of these games and the pieces that make them up. Let us know what you think, OK desu ka?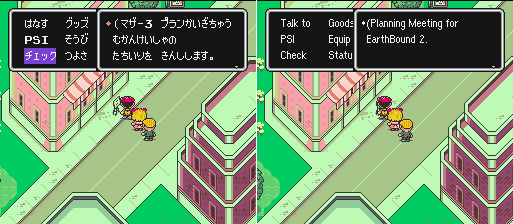 Bookwarm Games
On youtube and wherever you listen to podcasts; written up as illustrated essays on The Pixels
3rdStrongest MOTHER and MOTHER 3 Discussions
Hosted on youtube and on the podcast archives; M3 Review
Middle-earth to EarthBound
Hosted by Signum Academy on Twitch, slowly converting over to youtube; streaming first and third Mondays at 7:30 Eastern
EarthBound Beginnings (MOTHER)
EarthBound (MOTHER 2)
Suggested Reading:
"What EarthBound means to me," by Itoi
Legends of Localization: EarthBound, and MOTHER 3 Fan Translation, by Clyde Mandelin
starmen.net – including scripts for EarthBound, EB Beginnings, and MOTHER 3 (though if you can read Japanese and can afford to buy them, the official scripts look much nicer)
Translations of the official novelizations, by Saori Kumi, tr. Nyaasu
Official EarthBound Player's Guide and As-good-as-official MOTHER 3 Handbook. If only there were an extant Great-Grandfather's Diary guide for EarthBound Beginnings. Translating the MOTHER instruction booklet is about the best we can do for now.
"The MOTHER manifesto," by Pitchfork
"The Literature of the Moment," on EarthBound, and "Billy HP 108," on MOTHER 3, by Tim Rogers (a favorite also of the Critical Distance Compilation)
EarthBound, by Ken Baumann (review)
"MOTHER 3, a Literary Video Game," by Isaac Yuen
My piece, in progress, on asking questions in and with the series. In shorter form at the-pixels.